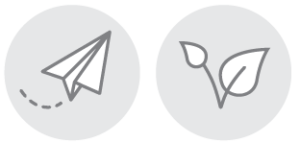 Plano Chair is a comfortable loungechair that was designed with the circular economy in mind. The chair is made from a single recycled plastic mono-material that is machined and folded. When not in use the Plano Chair can be stored as a flat panel.
C2C Award
With the design of the Plano Chair, we won the Cradle to Cradle design challenge in 2017. The Plano Chair is designed according to the Cradle-to-Cradle principles and is completely circular. The chair consists of one part and of one fully recyclable material. The distribution is efficient because the chair can be transported and sold as a flat product.
GIO Award
The Plano Chair and the footstool we designed later received a GIO (Good Industrial Design) award in 2018.