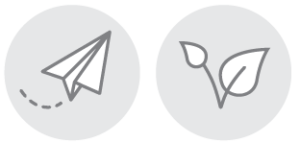 Private initiative of FromAtoB
As a follow-up to the study into more sustainable public transport equipment that we carried out with FromAtoB, we developed a concept for a sustainable train seat, the AtoB seat. Where comparable train furniture consists of more than 150 parts per seat, we wanted to do it with 10 parts. This would also greatly reduce the number of materials, with all the benefits for recycling and reuse. The chair is based on a comfortable one-piece seat shell, pressed from wood.
With FromAtoB we are now further developing this concept into a modular family of public transport chair solutions for various applications. The target number of 10 parts was not achieved, but a reduction of about 75% compared to existing furniture was. The chairs have a friendly and recognizable appearance.
FromAtoB Public Design won the 2016 Cradle to Cradle design challenge with this concept.